Visual StrongType for FORTRAN 77©
a static typechecker that works on FORTRAN source code to find algebraic inconsistencies
Fully functional 21-day free trial (4.5 meg)
Please note further development on the FORTRAN version has been suspended. Please contact me for more information.
Windows 95 /98 /NT /2000 versions with online help,
including lots of ready-to-run examples
Download a fully functional 21-day free trial
How it works
Using a simple typing language, all variables, arrays, functions, subroutine calls, in assignment statements, read statements, write statements, etc., in a program are typed with user-chosen units.

Visual StrongType identifies typecheck errors using those units. It shows lines with typecheck inconsistencies by displaying a color-coded parse tree graphic.
Screen shot of the color-coded parse tree showing source of typecheck inconsistencies: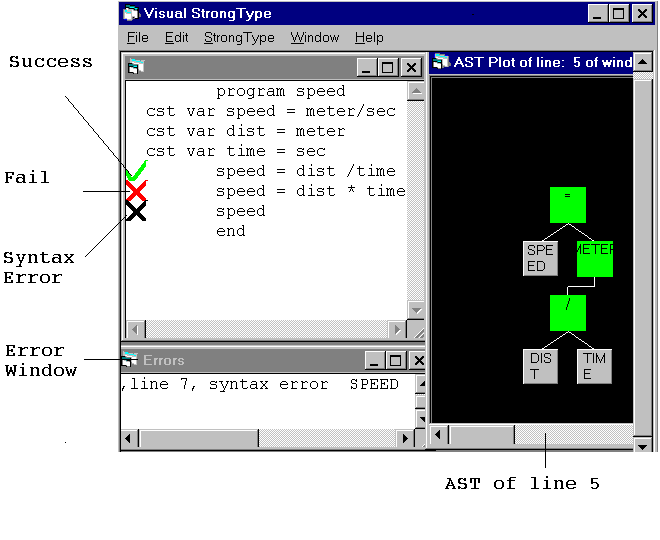 Please provide your email address below to go to the download. We use your email address to:
inform you of updates and issues,
notify you when a new version is available,
and to tell us how many copies have been downloaded.

You will not be bombarded with marketing information.
You will be able to remove yourself from the mailing list.
Your address will not be used for any other purpose or shared with others.
May 11, 2004
© Copyright 1999-2004, StrongType Inc.